Crystal Reports
"With our previous Crystal Reports scheduler, the scheduler would fail without notification and we wouldn't know until someone complained about not getting the output of the job. Fixing these instances could often take more time and energy than scheduling the job had saved. The Crystal Reports job library for ActiveBatch truly allows us to combine our reporting needs with other functions of our business, both on the back end and end-user level. This particular feature has taken over 120 scheduled jobs in our old system, down to just one in ActiveBatch-something I could not achieve with any other software."

-- ASM International
---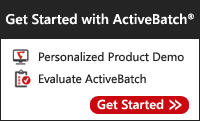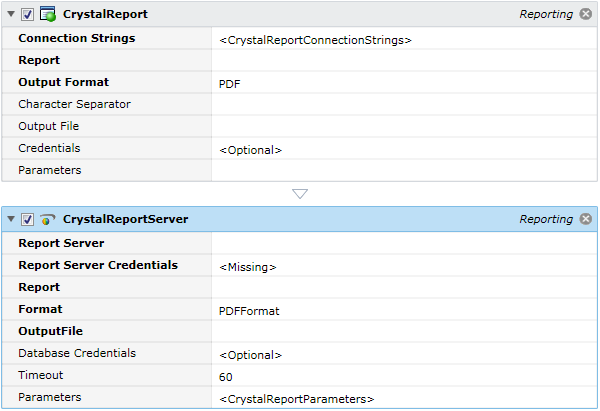 Screenshots

To automate the generation of reports from Business Objects Crystal Reports, IT organizations typically rely on point scheduling solutions, such as writing a command line script or using a "point" scheduling tool such as Crystal Desk or Windows Task Scheduler. These solutions are typically limited to basic date/time scheduling and do not offer robust integration capabilities to integrate Crystal Reports with other applications.

ActiveBatch® Workload Automation and Job Scheduling provides production-ready Job Steps for the automation of Crystal Reports and the ability to integrate these processes with other applications and data sources. Executing one or several Crystal Reports as a single job step is easily accomplished without the need for scripting. Users can identify the Crystal Report job name, parameters, output formats and more from auto-populating dropdown menus and automate the distribution of the report to end users in a desgniated output format. ActiveBatch currently supports the latest version of Crystal Reports, including Versions 11 and 12.

Users can then leverage ActiveBatch's robust scheduling capabilities, including job constraints, an event automation framework, SLAs, alerting and monitoring, audits and more to dynamically execute Crystal Reports based on date/time, an IT or business event such as file trigger or an email being received.

The Integrated Jobs Library supports the integration of Crystal Reports with other powerful and already existing ActiveBatch functions such as defined Database jobs, File Operations, FTP, email, and all other scheduled jobs. Enhance the power of Crystal Reports with our SQL Job functions such as "for each row". Allow ActiveBatch to schedule and run all of your reports within the context of your business and user requirements.
---