ActiveBatch Job Scheduler Add-Ins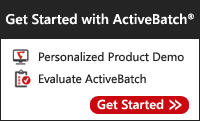 Advanced Systems Concepts offers additional ActiveBatch capabilities that users should consider to customize and enhance the use of our Enterprise Job Scheduling and Workload Automation system to meet specific requirements.

ActiveBatch Add-Ins include:
ActiveBatch Web Server provides remote access to one or more ActiveBatch Schedulers via authenticated access using Internet Explorer and Firefox.
ActiveBatch Mobile users can securely access ActiveBatch to control and manage both general operational requirements as well as emergencies from their Smartphone's or PDA via the web.
ActiveBatch High Availability Failover provides High Availability to the ActiveBatch system so that it can be configured with an active and passive scheduler(s) to address system failures.
Enterprise Monitoring Solutions for managing ActiveBatch Services and Objects. Add ins are available for the following solutions:
- Microsoft System Center Operations Manager (SCOM)
- HP OpenView
- Nagios
- Zenoss
Host Based Execution Agent Licensing increases flexibility for the creation and deployment of an unlimited number of ActiveBatch Guest Instances on each licensed Virtual Machine (VM) host.
ActiveBatch Web Services Environment (ENV) gives developers a cross-platform, industry standard programmatic alternative to ActiveBatch's Windows-based COM architecture.
---