Active Directory Integration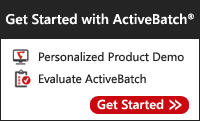 Screenshots

ActiveBatch Job Scheduling and Workload Automation provides users of Microsoft Active Directory with the ability to create, modify and manage Active Directory operations as Job Steps within workflows. Administrators can automate and manage critical jobs using Active Directory from within ActiveBatch's centralized console, including adding users and groups, deleting objects or users and modifying attributes associated with various objects and users.

ActiveBatch provides Active Directory users with job scheduling capabilities that include constraints, event triggers, monitoring, alerts and audits for the automation and execution of Active Directory functions within workflows that include other applications, databases and processes. The result is the ability for system administrators to automate many of the "Runbook" and administrative jobs, by building workflows using our Integrated Jobs Library now associated with IT Operations, thus saving time and streamlining IT operations.

In addition to Active Directory, ActiveBatch provides integrated support for other Microsoft technologies, including Microsoft Exchange and SharePoint, SQL Server Reporting and others.

Download the ActiveBatch Active Directory datasheet.
---