Job Scheduling Overview | ActiveBatch Job Scheduler
ActiveBatch Job Scheduler Core Capabilities:
---
ActiveBatch Workload Automation simplifies the design, development and automation of end-to-end workflows in support of business as well as IT operational processes using over 100 templated Job Steps from within the Integrated Jobs Library. These Job Steps support a range of functions such as Managed File Transfers, OpenPGP encryption, Java and more and are designed to eliminate the need for custom scripting. The Job Steps are supplemented with powerful ActiveBatch Extensions that include integrations for SAP, PeopleSoft, Informatica PowerCenter and more.

The ActiveBatch Integrated Jobs Library allows users to more easily author workflows that can pass data and manage dependencies across a range of platforms, applications and databases all from within a centralized automation and job scheduling system. As a result organizations can consolidate operations rather than managing their processes across multiple closed scheduling systems (e.g. Windows Task Scheduler, SQL Server Scheduler, cron, etc.) thereby reducing the cost of operations and improving service levels.

ActiveBatch core capabilities includes event as well as date / time automation, alerting, analytic reporting, auditing, change management, version control and much more.

Please click on a capability below to expand and view the description:
-Job Scheduling &amp Event Automation:

ActiveBatch is an Enterprise Job Scheduling and Workload Automation solution that conquers the boundaries created by IT complexity by providing users with a single point control to integrate applications, platforms and databases into "end-to-end" workflows. ActiveBatch allows IT organizations to automate workflows that share data and manage dependencies across a range of disparate IT technologies, allowing them to reduce the reliance on custom scripting, improve service levels, decrease errors from manual operations and

reduce the overall cost of operations

.

+ ActiveBatch Job Scheduling Scalability, Manageability and Integration:

ActiveBatch's scalable architecture is perfect for the enterprise as well as departments or projects in that it scales from a single server to over 2000 servers, physical or virtual, and has been tested to over one million jobs in a 24 hour period.

IT processing requires that workflows be supported in both "near" real time as well as in batch mode and they must execute on more than a single system or platform. Workflows can be triggered, for timely operations when all elements of a plan are in place for processing, by events, or using a date/time schedule with no (or minimal) operator interaction and without experts using a Job Control Language or script to control the logic. As part of this, ActiveBatch supports the reliable execution of job and plans on a wide range of systems. The supported platforms include (this list is representative and not exhaustive):

Microsoft Windows (x86, x64)
VMware
Microsoft's Hyper V
Xen
Linux (RedHat, Novell and SuSe)
IBM AIX
IBM iSeries (OS 400)
IBM z/OS

HP-UX
HP Tru64 Unix
HP NSK
SCO UNIX
Sun (Oracle) Solaris SPARC & x86
OpenVMS (Alpha and Itanium)
Mac OS

As part of its multi-platform support, ActiveBatch Job Steps for Microsoft Windows platforms are implemented through the .net Framework (3.5 SP1 or later). This framework allows for greater job step functionality as well as the ability for greater assistance in the creation of the job step itself. Almost all Job Steps have "helper" dropdowns that allow for browsing or the selection of a target object rather than having to type the object specification.

ActiveBatch is customer installable and incorporates many industry standards that simplify its installation into your existing IT Infrastructure. ActiveBatch support of many Microsoft, Oracle, HP, IBM, RedHat, Novell, SuSe, SCO, UNIX, VMware and other technologies allow for organizational standards to provide the best balance in achieving a reduced learning curve and improved financial performance for the enterprise.

ActiveBatch is script language independent and supports a wide range of job types that includes a built-in approach to simplify job design for:

Process Job Types (e.g. scripts, exe's, etc.)
Script-Store the script content within ActiveBatch for improved access and control
Integrated Jobs Library custom templated Job Steps that range from Database operations such as SSIS, DTS, Execute T-SQL/PL-SQL to Networking operations such as SFTP, FTPS, FTP, Hosted Exchange E-Mail, SMTP to Java/J2EEE operations to Web Services applications.

ActiveBatch further supports enterprise deployments by offering a range of Job Steps that supports various functions and workflows, including:

Database Job Steps

Database Job Steps support the following types of operations: Execute T-SQL, PL-SQL, SSIS, DTS, Execute SQL Server Jobs, Execute Oracle Jobs, Backup and many others. All of the database Job Steps feature property assistance helpers (for example, when creating a SQL Server Job step, you can browse the SQL Server machines easily and then select an existing SQL Server job).

Messaging

Microsoft Hosted Exchange is supported for sending e-mails as well as Event Trigger capability. Both Exchange and SMTP E-Mail support authenticated e-mail. Java Messaging Service (JMS) is supported and allows both Queue and Topic use as well as Property and Message Body capability. JMS is also supported within the Event Trigger framework. Microsoft Message Queue (MSMQ) is also supported.

Java/J2EEE/JMX

Java and JMX Job Steps allow method execution without requiring a Java applet. JMX properties can be used within the Event Trigger framework.

Social Media

This series of Job Steps supports Twitter and Growl usage. For example, you can send and receive Twitter messages which might be used to alert end-users and/or trigger workloads.

Power Management

Job steps that support the Suspend/Hibernate of physical machines as well as the "Wake-on-LAN" allow for conservation of electricity and other consumable resources when systems are not scheduled for any job execution.

Certificates/OpenPGP

Job steps that support the creation and maintenance of SSL Certificates. OpenPGP support provides the completion creation and maintenance of OpenPGP Key Rings as well as built-in encryption and decryption of file data.

Reporting

Crystal Report (Server and local), SQL Server Reporting capabilities.

Symantec Back-Up Exec

You can now perform Backup and Restore operations accessing the Symantec Back-up Exec product.

ActiveBatch (Import Change-set)

This job step allows you to schedule a Change Management approved configuration change-set. See "Change Management" facility below for more information on this new facility.

+ The ActiveBatch Integrated Jobs Library - Reducing the Cost of Custom Script Development:

ActiveBatch's Integrated Jobs Library

utilizes re-useable "templates" that offers a scriptless approach to creating and implementing end-to-end workflows for applications and IT functions. The Integrated Jobs Library provides true Business Process Automation that supports the development of workflows that include applications, platforms and technologies such as Stored Procedures, .Net Assemblies, Web Services and more. In addition, the

ActiveBatch Extension Library

offers integration to many of the industry's leading applications and technologies, such as SAP, Informatica PowerCenter, Oracle, IBM Cognos and DataStage, Teradata and more.

The Graphical Jobs Editor is used to create workflows from the templated Job Steps by simply a drag-and-drop of a Job Step function from the palette of Job Steps. Tool tips and examples allow for every easy creation of Job Steps. For example, loading an SSIS Package nested Job Steps are now visually shown.

Job steps can have "helper" dropdowns that allow for browsing or the selection of a target object rather than having to type the object specification.

+ Web Services Integration for Reusability:

ActiveBatch features complete support for Web Services at both the Job Step level and the Event Trigger framework. A WSDL is specified and the methods and properties are extracted and presented as a series of Job Steps that correlate to the methods in the Web Service. This presentation capability makes the use of Web Services as Job Steps very easy to use and deploy in a mix of the built-in Job Steps that are provided by ActiveBatch. In addition, web services events can be specified that can act as a triggering mechanism to start ActiveBatch plans and jobs.

ActiveBatch allows for reusability by supporting the creation of a Service Library where any internal or externally developed WSDL, can be loaded, and used as part of your workflow.

Web Services security support includes certificate, user credential authentication, HTTP Digest Authentication, Integrated Windows Security and other security mechanisms also employed by Web Services.

+ ActiveBatch Security:

Enterprise applications, such as ActiveBatch must provide a secure environment, without additional costs for implementation and on-going support. ActiveBatch fully utilizes the Microsoft security model including Kerberos and the use of Certificate credentials. ActiveBatch fully supports Microsoft's Active Directory facilities leveraging your existing Windows accounts and groups available to ActiveBatch on day one. Finally, ActiveBatch allows for the creation and maintenance of SSL and Public/Private keys for a variety of other ActiveBatch Job Steps (i.e. SFTP, FTPS) as well as general usage of such keys and certificates.

+ Audits: Addressing the Internal and External Requirements:

ActiveBatch's audit architecture provides details on the creation, modification, and operational aspects for each and every ActiveBatch object (e.g. Jobs, Plans, User Accounts, etc.). The revision history of an object is stored and can be visually compared to previous revisions so that "differences" are highlighted.

ActiveBatch provides for improved "compliance and control" of objects through its support of customized audit fields that can either be made optional or mandatory to address the specific requirements of auditors.

Finally, a Notification pane allows users to observe audits in real-time. This capability complements the alert facilities of the product through a real-time portal into the audit system. Critical or important audits can be alerted through numerous actions including the use of the built-in Alerts View which allows those alerts to require operator acknowledgement and/or action.

+ ActiveBatch use of Active Variables:

ActiveBatch supports "variables" which allow information to be passed within a workflow. Variables are supported in a hierarchical fashion (in other plans, nested plans and jobs) and the information in a variable can be secured (in case it contains sensitive information). Variables come in two types: Constant and Active.

Constant variables are based on a numeric or string constant value. Active Variables are based on a data source in which the value is derived from the source. Active Variables support a wide variety of data sources, for example:

SQL Query
WMI WQL Query
XML Xpath Query
Date Arithmetic
Web Services
Registry

Variables can also be exported to running jobs via the "Export as an Environment Variable" property.

+ Job, File, Resources and Variable Constraints for Improved Job Management Control:

ActiveBatch uses a series of constraints to control jobs, plans and the resultant workflows for timely processing and improved success.

File Constraints check the presence or absence of a file as well as other attributes including exclusivity, file size as well as Created, Modified and Last accessed times.
Job Constraints execute jobs based on the completion or success of other jobs in the job scheduling stream or plan.
Resource Constraints provide the ability to meter plan and job execution based on finite computing resources, licenses, etc.
Time Constraints indicate scheduling periods when a job may or may not execute.
Variable Constraints test one or more values from a data source such as SQL, WMI's WQL, etc, to determine whether those values meet the requirements.
Interactive Constraints are used to pause a workflow and/or request additional information that can be manually entered.

The constraints mentioned may be combined and used in an expression. The expression can use many operators to ultimately determine whether the expression equates to a Boolean True ("constraints met") or False ("constraints failed").

+ Event Automation for Improved Service Levels by removing Latency:

Event Driven Scheduling is important in today's 24x7 IT environments where achieving Service Levels are critical in allowing business users to avoid missing deadlines. The ActiveBatch Event Trigger framework supports triggering of plans and Jobs based on a number of events. The most typical use of the Event Trigger framework is when a plan or job complete. The author can indicate which job(s) and/or plan(s) should execute next and what criteria is necessary for those objects to execute. For example, on successful completion, the next job can be triggered for execution in the workflow. Conversely, if a job has failed, a different job can be triggered. For refined execution of workflow jobs, you can also specify specific exit codes that would allow respective job/plan to be executed.

File Trigger Events are the most popular event triggers and can be set to occur when a file(s) is created, modified, deleted, or appears in a specified directory. Recursive sub-directories can also be monitored. When file triggers occur, files are verified for exclusivity. This avoids a premature trigger when the file may not actually be accessible.
E-Mail Event Triggers allows for specifying several criteria for determining whether an inbound e-mail message should trigger an ActiveBatch object. E-Mail support includes both Microsoft Hosted Exchange as well as POP3.
JMS Triggers allows you to specify a queue and/or topic to check for messages and filter criteria. The criteria can be message body and/or properties.
MSMQ Event Trigger allows you to specify an MSMQ queue and criteria for determining whether an inbound message should trigger an ActiveBatch object.
WMI Events include over 15,000 hardware and software based events that Microsoft (and third-party providers) provides that ActiveBatch recognizes to trigger workflows. One example would be writing to the Windows Event log.
System Startup Events can be used to trigger workflows upon a reboot of a system.
Web Services Triggers allow you to specify a Web Services trigger. The triggering mechanism creates an "endpoint" in which you can subscribe to other Web Services events. When the event occurs, the endpoint receives the Web Services message which is decomposed into ActiveBatch variables that can be used for various processing.
Social Media Triggers support Twitter and Growl events. For example, this means you could trigger a workflow based on a Twitter message.
Oracle Database Triggers support the modification of a table via an Insert, Update or Delete operation in a seamless and transparent mechanism in which the data being entered or updated can trigger a workflow. (separately licensed).

ActiveBatch also supports other event triggering mechanisms such as VMware (separately licensed).

+ Date and Time Scheduling:

ActiveBatch Date and Time Scheduling allows for both pattern and non-pattern based date/time scheduling of Plans and/or Jobs. Date and Time scheduling can be Gregorian or Fiscal Year based. Schedule objects are used to denote a period of date/time(s) and one or more schedules can be associated with one or more ActiveBatch objects.

Patterned scheduling might be, for example, every Tuesday at 8:00 AM or the last weekday in a month at 9.17PM. Alternatively if your requirements call for non-patterned date/times such as run this job on May 6th at 7:15am and November 9th at 9:22pm ActiveBatch supports this type of scheduling as well. Moreover, ActiveBatch supports a custom user-specified calendar is which specific dates (patterned or non-patterned) can be specified in a point-and-click fashion.

As businesses operate globally across time zones, many jobs are required to run using the local time rather than the time zone used by the scheduler. With ActiveBatch simply select the appropriate time zone from a dropdown menu and ActiveBatch will run that job or jobs using the local time of the zone selected.

ActiveBatch also supports the concept of Business Days. The Calendar object allows you to specify non-working days (for example, typically a weekend like Saturday and Sunday) as well as observed Holidays. Holidays can be specified using two methods: Absolute and Self-Relative. When a holiday occurs on a job associated with one or more Business Calendars, the author can indicate whether the job instance should be skipped, run on the previous business day or run on the next business day.

+ Customizable Alerts Using E-mail, Smart Phones and SNMP:

Alerts, concerning any ActiveBatch audit event, can be raised to any interested party or parties by simply associating an Alert object with the applicable Plan or Job. An Alert Object contains one or more alerts and their actions. Actions can include e-mail, Pagers, SNMP, ActiveBatch Alert and many other actions. When an alert is raised to the ActiveBatch Alert action that alert appears in the Alert pane (a part of the ActiveBatch GUI interface). The Alert pane contains outstanding alerts that must be responded to.

Alerts can be customized and the "alert text" changed depending on the company and/or local language in use. Designers can specify their own text, including variable substitution, as appropriate. SNMP traps are supported as an alert action which allows easy interface to most third-party monitoring solutions. In addition, an alert action can be used to trigger one or more objects depending on the alert conditions.

Alert objects are another form of reusability that ActiveBatch supports. One or more plans or jobs can be associated to one or more Alert objects.

+ Reporting Services and OLAP:

ActiveBatch supports two (2) types of reporting of the information concerning its Plans and Jobs: Ad-Hoc and OLAP. Ad-hoc reporting uses the main ActiveBatch transactional database and reports on a user-specified set of data and criteria. The report is presented in list-fashion and supports a number of formats (i.e. HTML, XML, CSV, etc). Reports are easily configured and offer sorting and date range flexibility.

The preferred approach to ActiveBatch reporting is through the high performance OLAP Reporting system. The OLAP system consists of a cube (which is fully documented) and more than two dozen reports (which are available using SQL Server Reporting, Crystal Reports and Oracle Answers) that report on various data in list, graphical and trend forms. ActiveBatch OLAP Reporting database is separate from the transaction scheduling database and so report generation does not impact scheduling. An ActiveBatch ETL job is run nightly (the schedule can be customized) to extract previous instance data from the transactional to the OLAP database.

+ Change Management:

Customers employ different environments to cope with development, testing (QA) and production use and requirements. The ActiveBatch Change Management system, a built-in facility of the product, allows detailed comparisons between different environments for the purpose of migrating object changes from one environment to another.

The Change Management system provides a graphical interface for detecting object differences and then indicating what level of synchronization should be performed.

Objects that are migrating from one environment to another also support transformations in which "environment" required changes can also be applied to the migrating object (for example, imposing new security or other environment based property changes).

ActiveBatch provides a job step that allows automation of the approved Change Management modifications (for example, a job could be scheduled at updates a production system at an approved time).

+ Load Balancing and High Availability Fully Integrated Into ActiveBatch:

ActiveBatch Job Scheduling algorithms allow distribution of jobs or plans across an association of servers based on one of several algorithms that help to ensure that SLA's are achieved. A server failure will result in the workload being divided across fewer system until the server can be returned to the queue. As the numbers of jobs increase or the resource demands grow new servers can be added without changing the jobs or plans.

ActiveBatch, supports the concept of check-pointing and allows for the restarting of the instance from its last good checkpoint, helping to ensure on time completion.

ActiveBatch supports several High Availability options. To support Job Scheduler high availability we support Microsoft or Symantec Clusters or you can use the ActiveBatch Non Cluster Failover add-in and avoid the necessity of a clustering solution. For Execution machine high availability, the use of Generic Queues which support multiple servers that are configured to handle the same job load can be used. In the event a machine fails, the remaining machines will take up the load.

+ Monitoring Enterprise Applications:

ActiveBatch provides monitoring of key operational functions through its integrated support of several of the industry's leading operations management solutions as add-ins to the base product.

ActiveBatch Monitoring Solutions include:

ActiveBatch Management Pack for Systems Center Operations Manager, this Microsoft certified pack, provides seamless monitoring of ActiveBatch services and objects on all System Center Operations Manager supported systems running ActiveBatch. In addition, ActiveBatch supports several Job Steps that enable/disable maintenance mode for any supported System Center Operations Manager objects.
ActiveBatch Smart Plug-In for HP Operations Manager software for Windows.
ActiveBatch support SNMP and Windows Event Log update which can be used with many third-party monitoring systems as the source of alert information concerning critical or important jobs.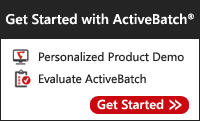 ---