Reporting Services
Multi-Dimensional Data Access for Improved Decision Making!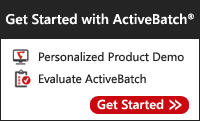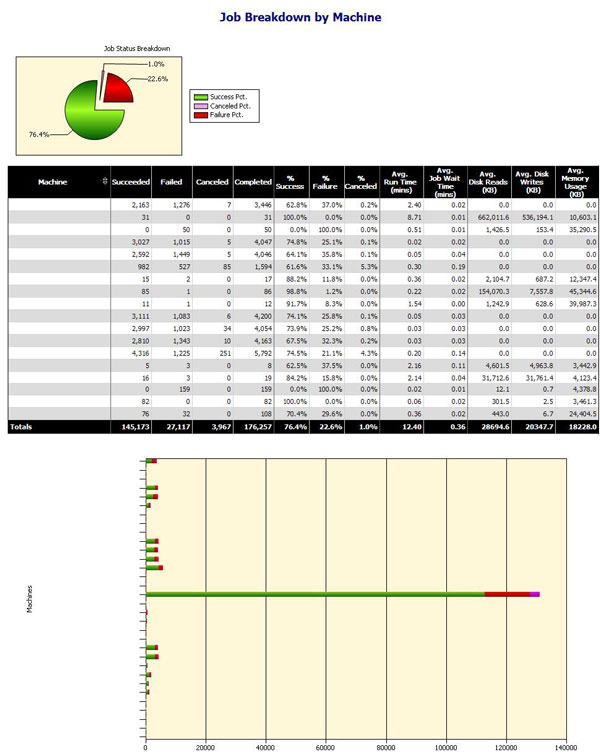 Screenshots

ActiveBatch

®

supports a variety of reporting capabilities to enable organizations to deliver information to end users quickly and in multiple formats for improved decision making. ActiveBatch offers Reporting and Dashboard capabilities to provide users with the ability to better understand workload performance and identify potential processing bottlenecks.

ActiveBatch Reporting leverages both a transactional and OLAP database, either SQL Server or Oracle, for improved multi-dimensional reporting that supports a variety of formats. An OLAP cube and series of built-in reports are included with ActiveBatch (in SQL Server Reporting Crystal Reports, Excel, etc.) to report on data in both list and graphical form. An ActiveBatch ETL job is available and can be customized to run using a schedule or be triggered by events when real time updates to the Reporting database are required. The ActiveBatch ETL job updates our Reporting database by extracting historical instance data from our transactional database in order to create the OLAP cube, where the aggregations are populated. The ActiveBatch Reporting Services Manager constructs the Reporting database, creates the ActiveBatch ETL job to support data extractions, and deploys the built-in reports to the Reporting server.

In addition, ActiveBatch also provides a series of additional built-in reports to provide analysis on the performance of workflows tied to Service Level Agreements (SLA), allowing users to pull real-time data from ActiveBatch and report on it to better manage their workflow processing in accordance with business policies. Reports include SLA batch runs for a specified timeframe, average run times of SLA batches, wait times of SLA batches and a report for distribution of SLA statuses over a given timeframe.

The Analysis Dashboard provides users with a graphical display of their Key Performance Indicators (KPI's) including up-to-date information on the execution, completion and overall performance of workflows. The Dashboard displays various pre-built and custom-built reports and is fully customizable so reports can be added or removed. Finally, users can refresh reports with up-to-date data with simply the click of a button.

Many of the pre-built reports part of the Analysis Dashboard also provide analysis on the performance of workflows tied to SLAs, allowing users to pull real-time data from ActiveBatch and into the Dashboard View to gain insight on workflow processing in accordance with business policies and SLAs. For example, dashboards will provide users with the data to determine peak operating periods when workflow execution and resource usage is high, thus enabling a user to take action such as allotting additional resources or altering workflow runtimes.

ActiveBatch's Reporting and Dashboard functionality are core capabilities and are included as part of every ActiveBatch installation, at no additional fee.
---