Business Process Automation | Integrated Jobs Library
ActiveBatch
®

Integrated Jobs Library- Business Process Automation without Scripting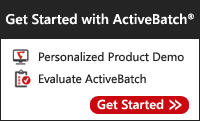 ---
The ActiveBatch® Integrated Jobs Library uses production-ready, templated Job Steps to simplify the development and implementation of single and/or compound business and IT processes into unified workflows that share data and manage dependencies across applications and systems. The Integrated Job Library allows developers to more easily construct workflows from within the Library's drag-and-drop interface to integrate a wide range of IT technologies, tasks and functions without having to invest time and resources in creating custom scripts.

The ActiveBatch Integrated Jobs Library contains over 130 Job Steps to simplify workflow creation for applications, databases and technologies. Advanced Systems Concepts also offers a series of ActiveBatch Extensions for direct integration with specific 3rd party applications, databases and platforms to allow users to integrate these processes with the core capabilities already offered within the Jobs Library. Examples of ActiveBatch Extensions include IBM Cognos and DataStage, Netezza, Oracle PeopleSoft, SAP NetWeaver, and more.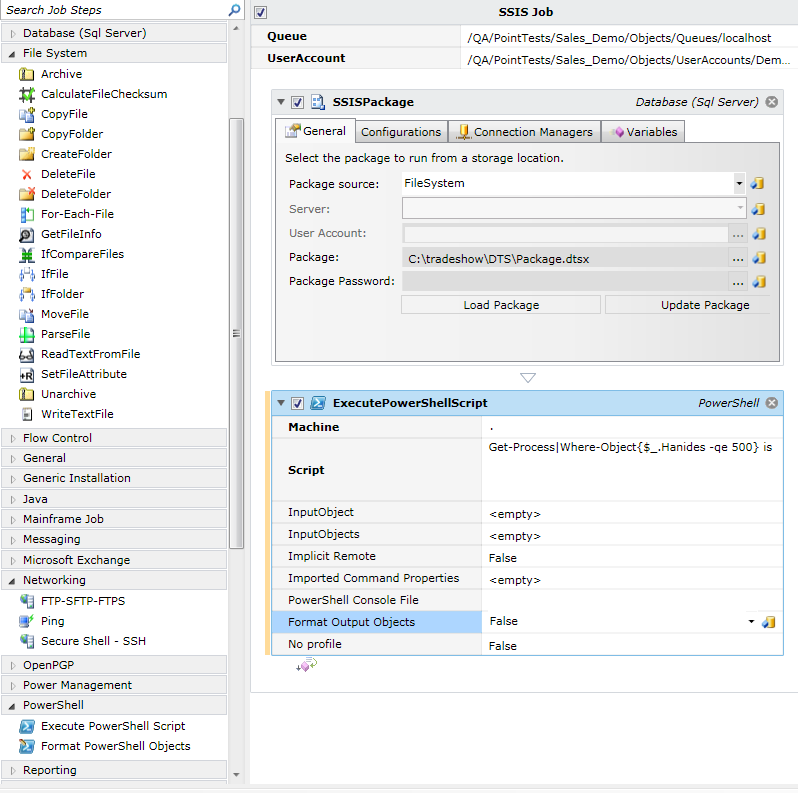 The Integrated Jobs Library is augmented by the ActiveBatch Services Library, which is a dynamic Web Services and SOA tool that extends ActiveBatch's integration capabilities with various enterprise applications and systems that ActiveBatch does not already provide direct support for. The Services Library supports the loading of Web Services, .Net Assemblies, Stored Procedures and Command lines within Integrated Jobs Library so that their "methods" can be utilized as reusable Job Steps within workflows.
The Integrated Jobs Library provides true business process automation across the enterprise from within a single automation solution. The following is a list of Jobs Steps:

+ ActiveBatch

Close Queue
Disable / Enable Object
Import Changeset
Import / Export Object
Expression
Open / Close Queue
Report Progress
Set Variable(s)
Start / Stop Queue
Synchronize Job
Trigger Job


+ Active Directory

Add Group
Add User
Add User to Group
Delete Object
Disable User
Enable User
For Each Object
Modify Object Attribute
Modify User Attribute
Remove User From Group

+ BackupExec

Backup
Restore


+ Certificates

Create Self-Signed Certificate
Load Certificate
Remove a Certificate


+ Database General Functions

Generic SQLBlock
For Each Row


+ File System

Archive / UnArchive
CalculateFileChecksum
Copy File or Folder
Create File or Folder
Delete File or Folder
Move File
For Each File
GetFileInfo
IfCompareFiles
IfFile / IfFolder
ReadTextFromFile
SetFileAttribute
Write Text File


+ Flow Control

For Each Value / Item
If Branch / If-Else
For / Wait
Try-Catch
Wait
Exit Job


+ Installation-Generic and ActiveBatch

Install / Uninstall
Modify
Update
Log
Output Variables
ShellCommand
Embedded Script


+ Java

Execute Java / JMX / EJB Method
Get / Set JMX Attribute


+ Mainframe-z/OS

Sychronize with Mainframe Job
ZOS


+ Messaging

E-Mail (Exchange & SMTP)
Growl
Issue Communicator Message
Msmq Send & Receive
Send & Receive JMS Message
Twitter


+ Microsoft Exchange

Associate Member to Group
Create Distribution Group
Create Mailbox
Delete Distribution Group
Disable Mailbox
Disassociate Member from Group
Enable Mailbox

+ Networking & Managed File Transfer

FTP-SFTP-FTPS
Ping
Secure Shell - SSH


+ OpenPGP

Add / Remove User to OpenPGP Key
Create OpenPGP Keyring
Encrypt / Decrypt A File Using OpenPGP
Import / Export Open PGP Key
Generate / Remove OpenPGP Keys
Get Key Info

+ Oracle Database

Import / Export
PL-SQL Block
Get Job Status
Start Job
Synchronize Job


+ Power Management for Power Savings

Collect / Suspend and Wake Machine


+ PowerShell

Execute PowerShell Script
Format PowerShell Objects


+ Reporting

Crystal Report / Crystal Report Server
SQL Server Report


+ System Administration

CheckServiceStatus
Clear Event Log
Pause / Start / Stop / Resume Service
Search Event Log


+ SQL Server Database

SSIS Package
DTS Package
SQL Server Job
Backup
T-SQL Block


+ Text

For Each Regex Match
For Each XML Node


Building "end-to-end" workflows has never been easier.

---