Oracle Job Scheduler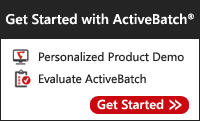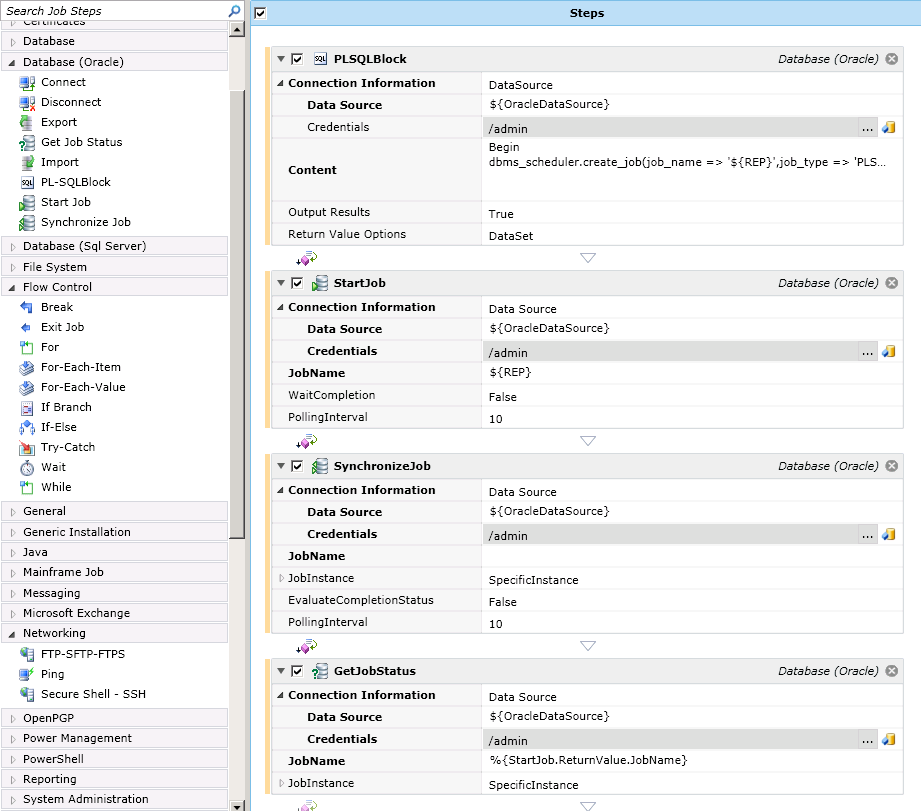 Screenshots

Oracle scheduling capabilities are extended by the ActiveBatch

®

Job Scheduler through its Production-Ready Integrated Jobs Library. This approach allows Oracle workflows to be merged and/or used in conjunction with other non-Oracle based processing.

The ActiveBatch Integrated Jobs Library support for Oracle includes:
Start Job
Import / Export
Get Job Status
Synchronize Job
Pl-SQL Block
Using ActiveBatch's Production Ready Job Steps for Oracle, all of ActiveBatch's advanced scheduling capabilities can be brought to your Oracle jobs. As a result the current Oracle scheduling can be enhanced and incorporated into "end-to-end" workflows that can include all of your IT business processes (not just Oracle) without the need to create or maintain custom scripts.
ActiveBatch supports the running of Oracle jobs on its server or on other systems running the Oracle client. In addition ActiveBatch gives the designer a choice between agent and "agent-less" access to the Oracle systems for invoking the Oracle task.
Oracle users can now receive the full benefit from ActiveBatch's ability to support:
Job chaining across multiple Oracle systems giving operators the ability to communicate and manage many Oracle jobs and workflows.
Single point of scheduling to easily integrate Oracle jobs with other jobs steps from the Integrated Jobs Library, scripts and applications all managed through the ActiveBatch job scheduler.
Pass information from Oracle databases to other servers, databases, or applications without custom script creation.
Event Triggers for Oracle Databases that support the initiation of ActiveBatch jobs and workflows to start on the insertion, update or deletion of information. ActiveBatch also supports a wide range of events that can be used to trigger your Oracle Workflows.
Improved reliability through ActiveBatch non cluster failover, checkpoint restarts, and workload balancing.
Integrating File, Resource, and Variable Constraints with Oracle jobs to reduce errors and ensure its accuracy.
Customizable and flexible alerting for Oracle jobs finally give organizations peace of mind knowing that their data will be up to date each and every day.
ActiveBatch adds advanced scheduling capabilities, such as Checkpointing, constraints or dependencies, monitoring or alerting or other Job Steps from the Integrated Jobs Library. The library includes steps such as FTP, SFTP, FTPS, flow control or even Web Services to your workflows by coupling the business execution logic found in Oracle with the robust framework that ActiveBatch has to offer.
ActiveBatch has been proven to enhance the automation and integration of Oracle with other Oracle or non-Oracle jobs, scripts and applications into workflows. These workflows have been proven to reduce errors by eliminating complex scripting, improving service levels and allowing for a reduced cost of operations through centralized and integrated control of previously disparate and disconnected Systems and applications.
---