Success Stories - ActiveBatch
®

Resource Center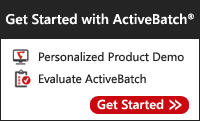 Advanced Systems Concepts understands that selecting an Enterprise Job Scheduling and Workload Automation solution is an important decision. To help we have provided you with a wide range of customer success stories from customers around the world and across different industries and sizes. We hope that you take a few moments and see why over 1,600 customers in 46 countries have found ActiveBatch to be the ideal solution in helping them to reduce IT complexity through ActiveBatch Workload Automation.
1 Next
---
Graymont Services Turns to ActiveBatch to Automate the Mining of Data
For Paul Epp, IS Manager and Cognos Application Manager at Graymont Services, taking an elemental approach to automating the organization's data warehousing and BI processes was costing him both time and sleep. Graymont, a leading provider of lime and stone products in North America, relies on the timely and accurate delivery of Cognos reports to keep financing and accounting in order, but the end-to-end automation of the underlying data warehousing processes and scheduling of Cognos reports was unreliable and problematic.
Read More...
The Retail Equation Finds the Key to Script-Free Datacenter Integration with ActiveBatch IT Automation
As senior director of IT for The Retail Equation, Ray Kelly understands the value that automation brings to the management and timely execution of the production processes within this datacenter, including file system operations, SQL Server database process types including backups and log shipping, FTP operations and many more.
Read More...
Xcel Energy Turns to ActiveBatch to Power Its Informatica Batch Processes
For Xcel Energy, finding a reliable, enterprise-wide job scheduling solution for the automation of its overnight batch processes and data warehousing workflows was the difference between working during the day or working overnight. Xcel Energy's nuclear division, which operates two nuclear power plants in Minnesota that produce 30 percent of the electricity provided to customers throughout the Upper Midwest, was originally using a job scheduling solution from SoftTree Technologies.
Read More...
Precision Dialogue Marketing Delivers Customer Success Through the Automation of Microsoft and SAS BI Processes
Customer centricity is the cornerstone of Precision Dialoguefs practice. As a database marketing and interactive services firm, the company takes pride in not only helping clients understand the value of customer centricity, but also practicing what they preach. An analytically]driven marketing firm, Precision Dialogue needs to move large volumes of client data in a secure manner, and it leverages ActiveBatch Job Scheduling and Workload Automation to do so.
Read More...
RelayHealth Insures Reliable, Centralized IT Process Automation
RelayHealth sits at a critical junction within the healthcare and pharmaceutical industries, connecting the people and information to facilitate better service. Specifically, RelayHealth, a division of McKesson, offers connectivity services and integration by providing clinical, financial and administrative communication between patients, providers, pharmacies, manufacturers and more. "We're the ones in the background that help make everything go round and round," says Tracy Thompson, Senior Director of Technical Services for RelayHealth.
Read More...
SBA Communications is Taking Cellular Towers to New Heights with Workload Automation
The next time you happen to take note of a cell phone tower, do not take the tower or the great reception on your Smartphone for granted. There is a lot more to managing that tower than meets the eye. When you are in the business of managing 10,000 towers, spanning from the tropical reaches of the Panama Canal to the northern stretches of the Canadian Yukon, the number of disparate IT systems and processes required to support their infrastructure can be daunting for even the largest IT organization.
Read More...
SUBWAY® Adopts an Architectural Approach to Automating Teradata with ActiveBatch Workload Automation
As one of the fastest growing restaurant franchises in the world, SUBWAY® relies heavily on the timely processing of operational and sales data from its more than 30,000 restaurants worldwide. The foundation for the timely arrival of this information is a data warehousing project that relies on information being passed between a collection of data sources, legacy platforms and a Teradata Data Appliance that was incorporated to address growing data volumes. To orchestrate these complex processes and manage dependencies between these systems, SUBWAY® relies on ActiveBatch® Workload Automation and Job Scheduling from Advanced Systems Concepts, Inc.
Read More...
AMEC Engineers a New Automation Strategy for Dynamics AX, SQL Server and More
AMEC's ERP solution sits at a critical junction of business data as an application that manages key timekeeping, project management and accounting data for a company that employs thousands of consultants worldwide. Driven by the real]time demands of the business, the ability of AMECfs IT organization to automate and streamline the passing of data has grown increasingly important. It was for this reason and others that AMEC identified the need to consolidate multiple scheduling tools into a single, automation platform for the scheduling and execution of critical batch processes.
Read More...
ASM International Automates SQL Server and Crystal Reporting with ActiveBatch IT Automation
ASM International is one of the world's foremost leaders in the field of material sciences and is consistently recognized as the gold standard for engineers, scientists and industry pundits alike. Its website defines the society as an engineering and scientific community "led by its members, guided by the members needs and fueled by member participation." With 36,000 members worldwide, fulfilling this mantra requires an IT staff that's up to the billing. To help get the job done, ASM International's IT department relies on ActiveBatch Enterprise Job Scheduling and Workload Automation to simplify and automate a myriad of missioncritical IT processes.
Read More...
BlueBay Asset Management Invests in Enterprise-Wide Workload Automation
In the world of financial asset and investment management, timely data equals money. In 1815, Nathan Rothschild famously proved this when he used carrier pigeons to report the news of the Battle of Waterloo to create one of most famous banking investments in history. Nearly 200 years later, for BlueBay Asset Management the same still holds true, only applications and systems are now delivering the data and it's the job of IT to ensure the processes that deliver that information are executed in a timely manner.
Read More...