Success Stories - ActiveBatch
®

Resource Center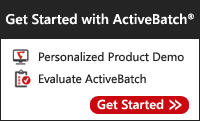 Advanced Systems Concepts understands that selecting an Enterprise Job Scheduling and Workload Automation solution is an important decision. To help we have provided you with a wide range of customer success stories from customers around the world and across different industries and sizes. We hope that you take a few moments and see why over 1,500 customers in 45 countries have found ActiveBatch to be the ideal solution in helping them to reduce IT complexity through ActiveBatch Workload Automation.
1 Next
---
SUBWAY® Adopts an Architectural Approach to Automating Teradata with ActiveBatch Workload Automation
As one of the fastest growing restaurant franchises in the world, SUBWAY® relies heavily on the timely processing of operational and sales data from its more than 30,000 restaurants worldwide. The foundation for the timely arrival of this information is a data warehousing project that relies on information being passed between a collection of data sources, legacy platforms and a Teradata Data Appliance that was incorporated to address growing data volumes. To orchestrate these complex processes and manage dependencies between these systems, SUBWAY® relies on ActiveBatch® Workload Automation and Job Scheduling from Advanced Systems Concepts, Inc.
Read More...
AMEC Engineers a New Automation Strategy for Dynamics AX, SQL Server and More
AMECfs ERP solution sits at a critical junction of business data as an application that manages key timekeeping, project management and accounting data for a company that employs thousands of consultants worldwide. Driven by the real]time demands of the business, the ability of AMECfs IT organization to automate and streamline the passing of data has grown increasingly important. It was for this reason and others that AMEC identified the need to consolidate multiple scheduling tools into a single, automation platform for the scheduling and execution of critical batch processes.
Read More...
Job Scheduling at Omaha Children s Hospital - CIO Insight, William Atkinson
Over the years, the IT department has engaged in a series of improvements, but the most-revised system during the last several years has been the business intelligence (BI) platform. "There was a time when only a few back-office team members were involved with BI," says Wendy Worthing, director of IT operations at Children's Hospital. "Not anymore. Everyone from finance, access, infection control and even c-level executives have begun using our business intelligence application to analyze, plan and report on various aspects of the hospital's performance."
Read More...
Workload Automation as the Cornerstone to Automating Telecom Business Processes for Cincinnati Bell
Cincinnati Bell serves customers with multiple telecommunication products and services across three states, including portions of Ohio, Kentucky and Indiana. The rates have changed, and so has the way customers pay those rates. In today's 24/7, Internet-driven world, Cincinnati Bell's IT organization has grown and innovated with the times, and that includes adopting workload automation as a cornerstone to automating many of the telecoms critical business processes.
Read More...
Datacenter Automation to Manage the Cloud for Ignite Technolgoies
At its core, Ignite Technologies uses ActiveBatch to automate thousands of jobs within its datacenter, which serves as the logistical hub for Ignite's numerous SaaS based offerings. The majority of the processes ActiveBatch automates revolves around Runbook processes critical to the upkeep of Ignite Technologies' datacenter, and thus their software offerings. We have a lot of servers on the backend, says Alan Davis, Network Engineer at Ignite Technologies. These servers are responsible for everything from where content is stored and accessed by customers, to machines responsible for customer transactions.
Read More...
Turkiye Finans is Servicing Web Services in a New Way with ActiveBatch Workload Automation
To better enable IT to deliver on its ambitious business goals to improve financial processes over the long term, Turkiye Finans' IT department realized the company needed to locate a best‐in‐class automation solution, and it found that solution with ActiveBatch® Job Scheduling and Workload Automation from Advanced Systems Concepts, Inc.
Read More...
Partnership HealthPlan of California Turns to ActiveBatch to Automate Core Insurance Policies, Save Money and Allow IT to Speak "One Common Code"
PHC is a private/public healthcare organization that provides healthcare to Medi]Cal, Healthy Kids, Healthy Families and MediCare Part D programs in Californiafs Solano, Yolo, and Sonoma counties. With the business growing and operations expanding to other counties throughout California, the need to update legacy IT infrastructure and streamline operations became paramount; and at the core of streamlining these processes is ActiveBatch Enterprise Job Scheduling and Workload Automation.
Read More...
Fieldglass, Inc. is Orchestrating Code Deployments to Put the Service Into SaaS with ActiveBatch Workload Automation
A large part of this is due to the simplicity of ActiveBatch, Hegland says. As a result, Fieldglass has more than 50 users who leverage ActiveBatch in one capacity or another.
Read More...
ActiveBatch Workload Automation is Automating 1.3 Million Jobs a Year for XTRA Lease
Learn how ActiveBatch Enterprise Job Scheduling and Workload Automation Software centralizes IT processes for XTRA Lease to improve service levels and flexibility. ActiveBatch also keeps their applications synchronized and coordinates their customer-facing activities.
Read More...
Children's Hospital Prescribes ActiveBatch® Job Scheduling Software and Sees Significant Improvement in BI and Data Warehouse Effectiveness
All in one event based scheduler unifies scheduling tasks, frees up resources and gives employees current data faster. Others who have downloaded the Children's Hospital Case Study have also shown interest in the following White Paper:
Job Scheduling: A Strategic Pathway for Improved Data Warehouse / Business Intelligence Performance
Get White Paper
Read More...