Enterprise Job Scheduler (Cross Platform)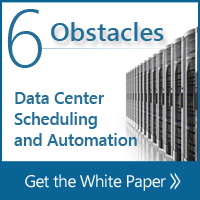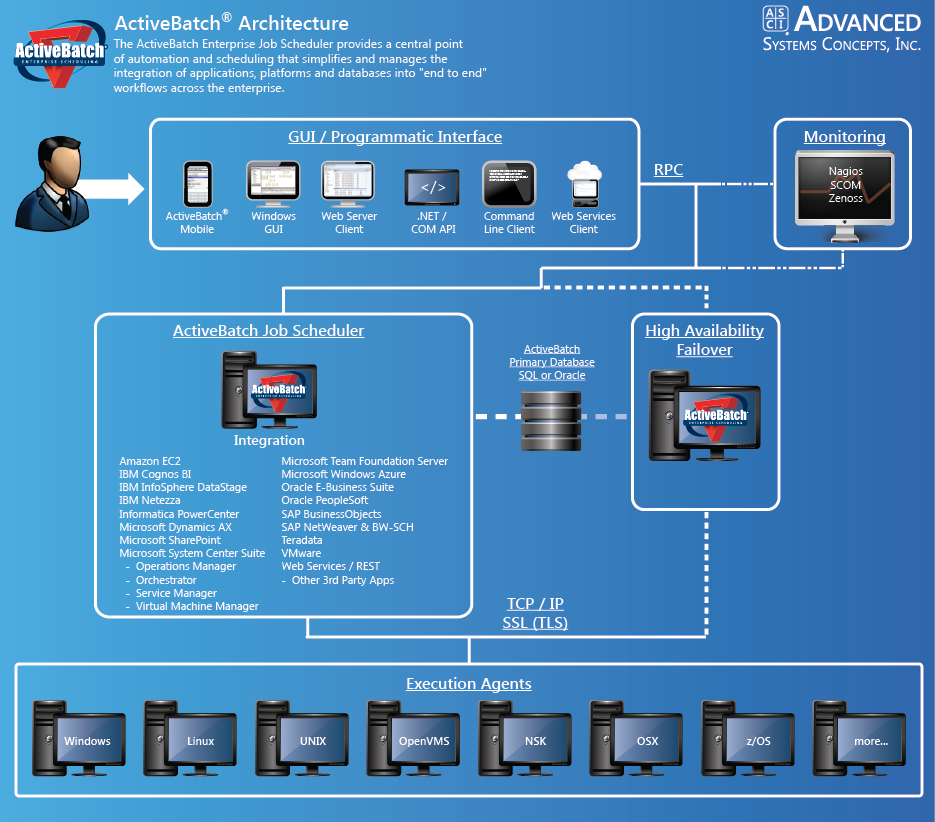 Screenshots

The ActiveBatch

®

Enterprise Job Scheduler provides a central point of automation and scheduling that simplifies and manages the integration of applications, platforms and databases into "end-to-end" workflows across the enterprise.

ActiveBatch organizes and manages tasks, applications and database workflows on and across a range of platforms (e.g. Microsoft Windows, Linux, UNIX, z/OS, OpenVMS and others) along with custom and business aware applications from our ActiveBatch Extensions that includes SAP, Informatica PowerCenter, PeopleSoft, and more. Our Integrated Jobs Library contains over 150 Job Steps for integrating databases, scripts, and technologies that include Managed File Transfers, Web Services, .Net Assemblies, Java, OpenPGP, Certificates, etc. into unified "end-to-end" workflows that share data and manage dependencies across diverse systems. By integrating the ActiveBatch job scheduler advanced capabilities, with the use of our powerful Business Execution Logic, contained in our Integrated Jobs Library users are able to develop workflows that are more reliable, without the requirement to create custom scripts.

ActiveBatch's scalable architecture addresses the automation requirements with powerful event driven scheduling that includes a wide range of triggers to initiate processes. The ActiveBatch Enterprise Job Scheduler Date & Time Scheduling support both pattern and non-pattern based date/time scheduling of Plans and/or Jobs. Date and Time scheduling can be Gregorian or Fiscal Year based.

The ActiveBatch Enterprise Job Scheduler licensing model is both flexible and affordable that does not charge for multiple processors, or limit the number of jobs you can execute. ActiveBatch accommodates system and environment changes without incurring additional license issues or fees as licenses are based on a unique point system rather than being tied to a specific system. The ActiveBatch Job Scheduler has a proven ROI that has been documented to deliver impressive financial benefits that includes improved productivity and a lower cost of operations that is ideal for today's distributed computing environments.

ActiveBatch supports the reliable execution of jobs and plans on and across a wide range of platforms that include:
Microsoft Windows x86, and x64
VMware, Microsoft's Hyper V and Xen
Mac OS
Linux
SuSe Linux
IBM AIX
IBM iSeries (AS/400 – OS/400)
z/OS
HP-UX
HP Tru64 Unix
HP NSK
SCO UNIX
Sun Solaris SPARC & x86
OpenVMS Alpha and Itanium
The ActiveBatch Integrated Jobs Library allows you to easily create and define workflows across and among a broad range of platforms and pass data from those jobs and plans using production ready templates, in place of commonly scripted operations, that can be implemented on day one.
The ActiveBatch Enterprise Job Scheduler is designed to be customer installable. ActiveBatch incorporates many industry standards that simplify its integration into your existing IT Infrastructure. ActiveBatch supports key technologies from Microsoft, Oracle, HP, IBM, Novell, SCO, UNIX, VMware and others to provide the best balance in achieving a reduced learning curve and improved financial benefits for IT and the organization.
---